Our Natural bottle with a soft nipple with a grooved texture to prevent crushing is designed for growing babies. Its natural shape imitating the breast and its comfort cells allow natural feeding and facilitate breast/bottle alternation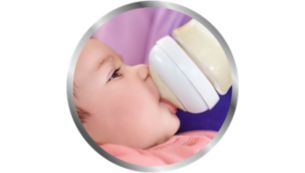 Natural suckling thanks to a large teat imitating the shape of the breast
The large teat imitating the shape of the breast allows a natural suckling similar to breastfeeding, which facilitates breast/bottle alternation for your baby.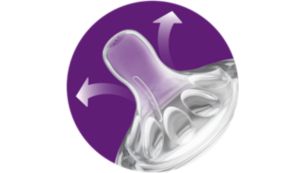 Soft, anti-crush grooved teat
The inside of the teat has dimples and grooves that give it flexibility while preventing it from crushing, for uninterrupted breastfeeding.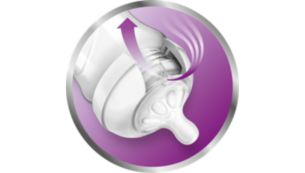 Anti-colic valve designed to reduce the risk of colic and discomfort
Anti-colic valve designed to prevent air from entering your baby's stomach, helping to reduce the risk of colic and discomfort.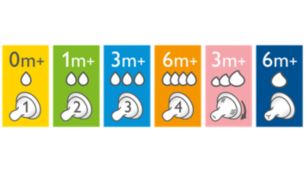 Teats offering different flow rates
The Philips Avent Natural range offers different levels of flexibility and progressively higher flow rates to accommodate each stage of your baby's development.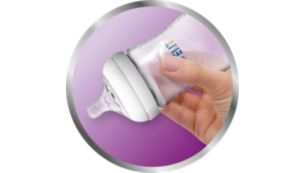 Ergonomic shape for maximum comfort
Thanks to its unique shape, this bottle is easy to hold in any direction, for maximum comfort, even in your child's little hands.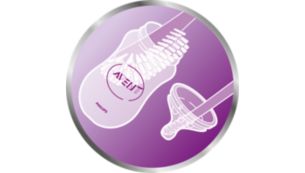 Easy to use and clean, simple and quick to assemble
The bottle's wide neck makes it easy to fill and clean. The bottle has only a few parts for quick and easy assembly.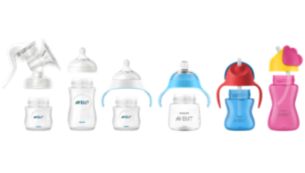 Compatible with the Natural Philips Avent range
Mix and match breast pump parts, bottles and cups as needed to create your ideal product!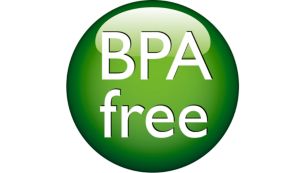 This bottle contains 0% BPA*
The Philips Avent Natural bottle is made of polypropylene and does not contain BPA.*
Soft and smooth silicone adapted to your baby's needs
This smooth, bite-resistant pacifier is designed for the needs of your growing baby.
Technical Specifications
Development stages

Stage

Material

Feeding bottle

Nipple