Healthy and complete meals for your baby in one step
A nutritious diet is essential for the proper development of your baby. The Philips Avent baby food processor makes it easy to prepare delicious home-cooked meals tailored to your baby's needs.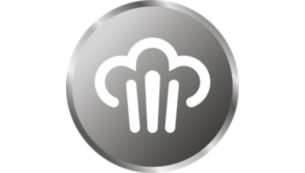 Unique steam cooking mode for healthy eating
Steam cooking is a healthy way of cooking. Thanks to our unique technology, steam flows from the bottom up, for evenly cooked ingredients without boiling over. The goodness and texture of food and cooking liquids are retained during blending.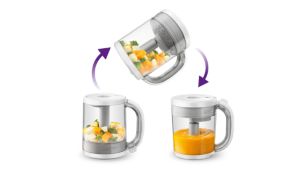 From baking to blending with one convenient bowl
This appliance brings together everything you need to prepare healthy meals for your baby in one bowl. As soon as the food is cooked, you just have to lift the bowl, turn it over and position it on the base to mix everything to the desired consistency.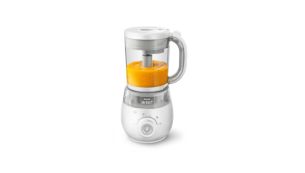 From puree to pieces, for each stage of diversification
Our 4-in-1 cooker-mixer accompanies you throughout the process of baby's food diversification: start by very finely mixing fruits and vegetables, then move on to mixtures of meats, fish and legumes, then offer him less smooth textures.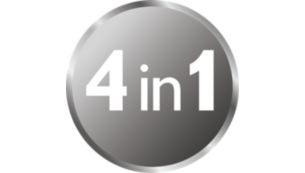 Steam, blend, reheat and defrost your home-cooked meals
This healthy 4-in-1 baby food processor lets you prepare healthy homemade meals, all in one bowl. You can serve food immediately or store it in the container provided to reheat later, thanks to the reheat and defrost functions.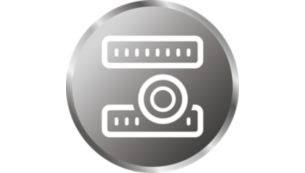 Dishwasher-safe bowl and blade and easy-access water reservoir
Even after use, the healthy 4-in-1 baby food processor remains very practical. Bowl and blade are dishwasher safe. And thanks to its open design, the water reservoir is easy to clean and refill, for clean steaming every time.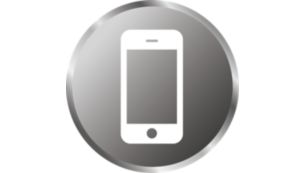 Healthy recipes, fun videos and tips
Download the app for advice on food diversification for your baby. You will find recipes that are healthy, easy to prepare and adapted to your baby's stage of development. Read step-by-step guides, watch fun and informative videos, and learn many tips that will make your baby's food diversification easier.
Cook up to four meals at once with the 1000ml bowl
The 4-in-1 healthy baby food processor also helps you save time and plan your meals in advance. The bowl has a capacity of 1000ml, so you can prepare up to four meals at once. Serve one meal and store the other three in the fridge or freezer for later.
Audible signal
No need to wait or watch. An audible signal lets you know that the food is cooked to perfection. All you have to do is turn the bowl upside down, mix and serve the meal or save it for later.
Technical Specifications
Development stages

Stage

Accessories included

Spatula

recipe booklet

Storage jar (240 ml)

Technical specifics

Capacity

720 ml for mixer, liquids

Technical specifics

Cord length

Tension

Native country

China

Technical characteristics

power consumption

Safety Classification