More comfort, more milk, convenient for on the go*
Make yourself comfortable, without leaning forward, and let the soft massage cushion gently stimulate your milk flow. The Avent manual breast pump has a reduced number of parts. It is easy to assemble, use and clean. Lightweight and compact, it allows you to easily express your milk when you're on the go.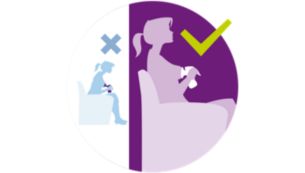 Position favoring relaxation, thanks to its special design
This breast pump has a unique design that allows your milk to go straight from your breast to the bottle, even when you're sitting up straight. So you can be more comfortable expressing your milk since you don't have to lean forward to make sure all your milk is flowing into the bottle. In addition, sitting comfortably, perfectly relaxed, stimulates milk flow.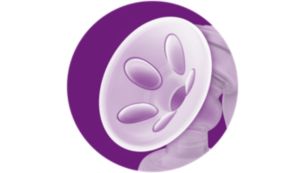 Soft massage cushion gently stimulates milk flow
Our soft massager cushion offers a velvety texture that feels warm to the touch against your skin for optimal comfort and gentle stimulation of milk flow. The massage cushion and its signature petal design have been designed to mimic the sucking effect of babies to help gently stimulate flow.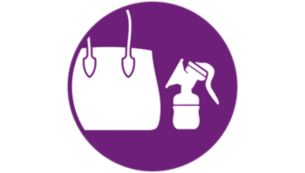 Lightweight and compact design
The breast pump is compact and lightweight, making it easy to store and transport, for more discreet operation on the go.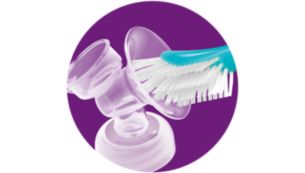 Small number of parts and intuitive design
Small number of parts and intuitive design. Pump your milk anytime, anywhere.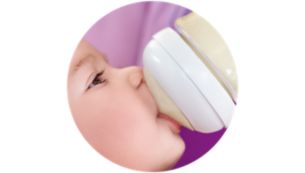 Includes our Natural teat and bottle for a natural latch.
The large, breast-shaped teat allows for natural feedings as at the breast, making it easier for your baby to switch between breast and bottle feeding.
Technical Specifications
Development stages

Stage

Material

Feeding bottle

Nipple

Draws milk

0% BPA* (food contact parts only)

Design

breast pump design

Bottle design

Included

Extra-soft newborn flow teat

Sealing disc for milk storage

Included

breast pump with handle

Natural baby bottle 125 ml

travel lid

Nursing pad sample packs

Easy to use

Using the breast pump

Functions

No need to bend over

Soft massage cushion

Included

Standard massage cushion

1 piece (19.5mm, larger cushion available separately)